Liz Cheney needs to be booted from the GOP.
She is the epitome of a RINO — a Republican In Name Only… but now, after this latest stunt, all bets are off.
Liz has got to go.
Liz Cheney, who is trailing her Trump-endorsed Republican challenger by A LOT, is reaching pure desperation levels.
MORE NEWS: The Truth About What's Really Going On With All The "Trump vs DeSantis 2024" Talk
She's now reaching out to her Democrat pals and not only asking them to temporarily change parties and voter for her in the primaries, but she's also sending them step-by-step instructions on exactly how to do it.
NEW NEWS: Liz Cheney is sending mail to Wyoming Democrats with instructions on how to switch parties to vote for her in the state's August primary. https://t.co/wR5asnnkGR pic.twitter.com/imnhKYccrL

— Reid J. Epstein (@reidepstein) June 23, 2022
Here's a closeup of the flyer: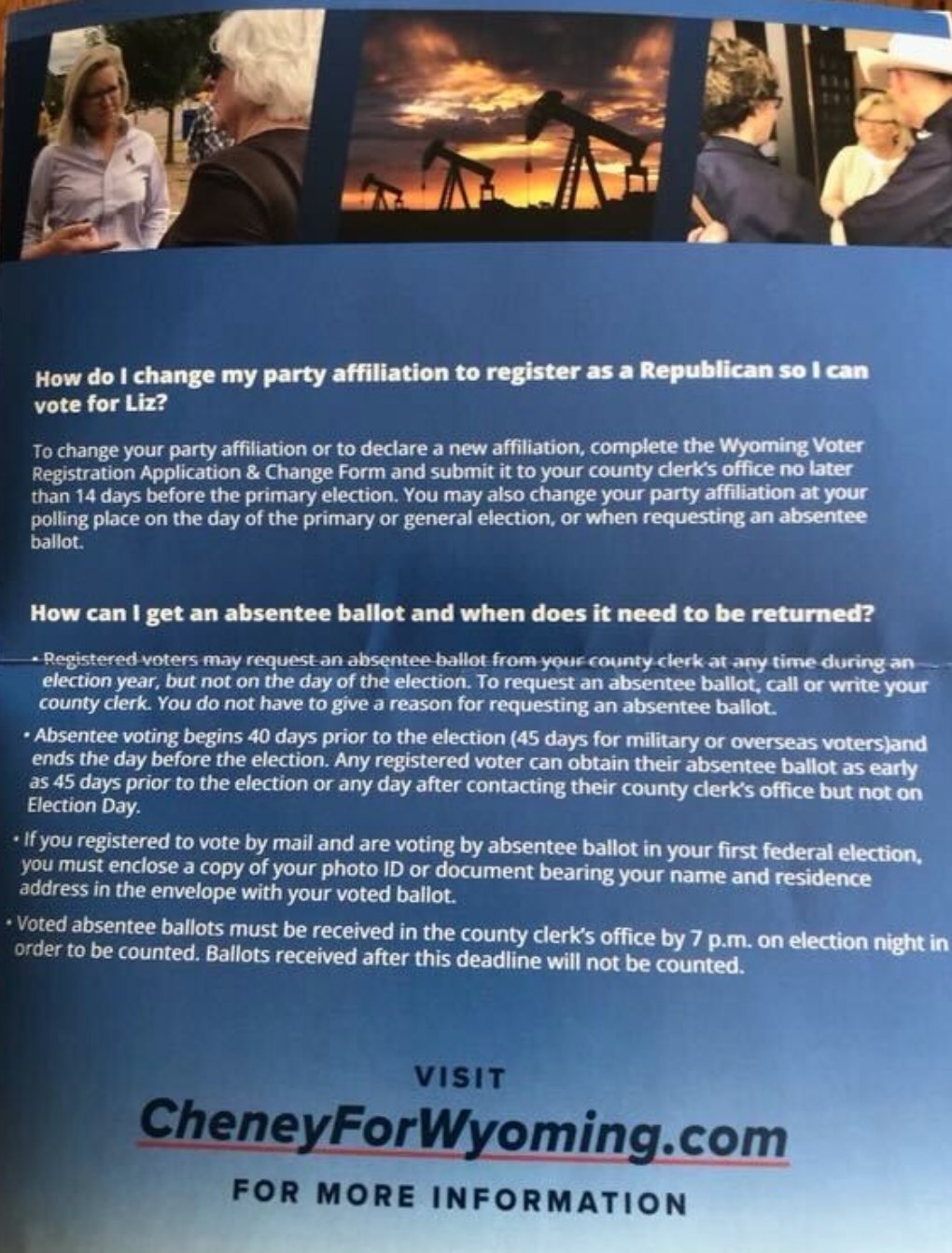 This is something Liz said she would never do.
She told New York Times reporter Reid Epstein this when asked if she would ever reach out to Dems to help her in the primary:
In February, Cheney told me she would not make a concerted effort to reach out to Democrats asking them to change parties. "That is not something that I have contemplated, that I have organized or that I will organize," she said in a Cheyenne interview.
While lecturing the nation about ethics, Liz Cheney is urging Democrats to vote for her in the Wyoming GOP primary. https://t.co/L34GJjJA3y

— Mark R. Levin (@marklevinshow) June 23, 2022
Liz Cheney is a liar, and she needs to be formally removed from the GOP.
If they can't do this, then they're even more useless than we think they are.
The opinions expressed by contributors and/or content partners are their own and do not necessarily reflect the views of WayneDupree.com
---
DEAR MEMBERS,
Are you sick of seeing ads? Well then it's time to get rid of them! WayneDupree.com is proud to offer a PREMIUM VIP MEMBERSHIP that eliminates ads and gives you the BEST browsing experience.
SIGN UP HERE and join us!
---
Follow Wayne on Rumble!