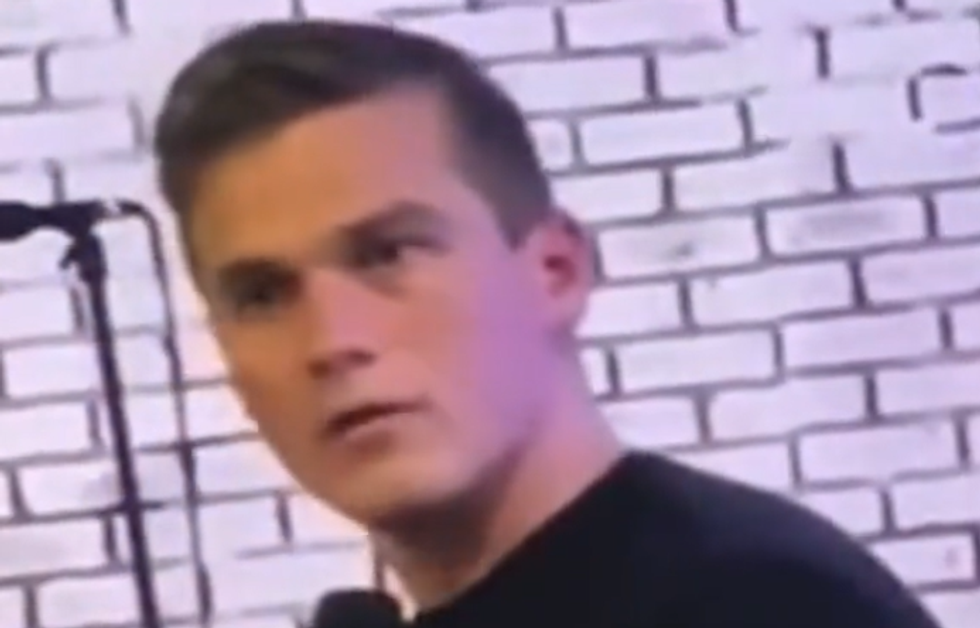 Earlier than coming into politics, Madison Cawthorn managed a Chick-fil-A and labored as a employees assistant the district workplace of his predecessor Mark Meadows. Whereas Your Wonkette would by no means denigrate trustworthy work, there's nothing on this man's resume that might point out that he was ready to be an precise factual congressman within the US Home of Representatives. Certainly Meadows, who presumably had some concept of Cawthorn's skills, went balls to the wall in a failed effort to ensure he did not have handy his seat off to the then-24-year-old.
And simply this as soon as, we should agree with Mark Meadows. The previous two years have proven precisely why Trump's chief of employees needed a replacement-level, middle-aged white girl who would toe the occasion line as an alternative of a shitposting toddler who alternates between run-ins with the police and attacking his fellow Republicans. Which is why the members of his personal caucus are unsubtly attempting to shiv Cawthorn earlier than subsequent week's major, in hopes that his constituents will abort this non-viable congressman and spare them the ache of getting to hold him one other time period.
---
On Wednesday, the Put up ran a story on how a lot the remainder of the North Carolina delegation, notably Senator Thom Tillis, despises this little twit.
Tillis and lots of of North Carolina's prime Republicans, together with the state's Home speaker and Senate chief, are backing a challenger, state Sen. Chuck Edwards, in subsequent Tuesday's major. Tillis has personally raised cash for the hassle. An allied tremendous PAC is bombarding the district with TV advertisements and mail items highlighting Cawthorn's string of scandals and indiscretions — a listing that will get longer with nearly every passing day.
It seems by no means to have occurred to this mind genius that there may be a political consequence for speaking smack about his fellow Republicans.
"Why is your spouse attacking me on Twitter?" Cawthorn texted Tillis again in November.
"Simply spit ballin right here, however possibly since you've attacked her husband?" Tillis shot again
"I don't really feel like I've attacked you that a lot," Cawthorn responded. "I feel I've mentioned I don't assume your conservative sufficient, didn't notice that made us enemies."
In actual fact, Cawthorn made a number of enemies in North Carolina, which is why Susan Tillis was tweeting about him. As a result of with out speaking to any of his fellow Tar Heel Gippers, the Boy Surprise introduced final yr that he was switching to run in a safer Republican seat. To not enhance his personal electoral prospects, he assured voters, however as a result of "I'm afraid that one other institution go-along-to-get-along Republican would prevail there. I cannot let that occur."
That "institution go-along-to-get-along Republican" Cawthorn cockblocked was Home Speaker Tim Moore, i.e. not somebody whom a traditional particular person would search to alienate if he needed a future in North Carolina Republican politics. Ultimately, Cawthorn did not even wind up switching districts!
And that was earlier than this undisciplined little shit instructed a podcaster that he was being invited to cocaine orgies by his fellow congressmen, which seems to have been the final straw for a lot of of his Republican colleagues in DC, who have been maybe capable of overlook the multiple instances of driving on a suspended license and bringing a gun on a aircraft, which didn't instantly contain them.
For the previous month, the knives have been out for Cawthorn, with common drops of movies of him appearing like a second-string highschool quarterback on spring break. Right here he's in women's underwear! Right here he's getting his crotch groped by a male aide, who can also be his cousin. Right here he's sending Venmo messages paying the aide for "getting naked for me in Sweden." Right here he's cavorting naked in mattress with mentioned aide. This is Donald Trump questioning if Madison Cawthorn is "fucking his cousin?"
Immediately CNN has a narrative about how a lot everybody in North Carolina and DC hates Madison Cawthorn. Spoiler Alert: It's a lot.
"I met with the man and mentioned, 'Do not break the legislation once more. You break the legislation another time, I will begin calling so that you can be kicked out,'" a Republican lawmaker instructed CNN. "And I do not imply kicked out of (the Home Freedom) Caucus, I imply kicked out of Convention. Voting him out. He is a black eye on our convention."
Very courageous, nameless congressperson!
Let's exit on a limb and assume that Kevin McCarthy, that spineless bowl of jell-o, ain't gonna do shit to punish Cawthorn. However Republicans' willingness to say out loud that this man is a bloody fool exhibits that they notice simply how a lot of an issue he's for the caucus.
He is getting no help within the major from his fellow North Carolina Home members:
Requested whether or not he supported Cawthorn for his reelection, Rep. David Rouzer mentioned, "I am not getting concerned within the major a technique or one other."

Rep. Dan Bishop mentioned, "I haven't got a touch upon that."

Rep. Virginia Foxx laughed, paused, and mentioned, "Proper now, I am simply going to vote." Her marketing campaign didn't reply to requests for remark.
And each Tillis and Senator Richard Burr, who's retiring, have explicitly come out towards him.
"There isn't any one factor that put me able to the place the primary time in my profession I am opposing a sitting Republican," mentioned Tillis, who has really useful that the Ethics Committee examine Cawthorn for probably involvement in a crypto pump and dump scheme. "I've by no means accomplished it. Nevertheless it's the totality. It is a lack of seriousness."
Burr was much less circumspect: "He is a humiliation on any day that ends in 'y.'"
However with all of that, Cawthorn remains to be polling forward of his closest opponent, state Sen. Chuck Edwards. The subsequent Ronald Reagan Memorial Boner Orgy is gonna be fairly awkward after that child pulls off a win subsequent week. Ah, properly, nothing a bit cocaine cannot repair.
Observe Liz Dye on Twitter!
Click on the widget to maintain your Wonkette ad-free and feisty. And in the event you're ordering from Amazon, use this link, because reasons.
window.REBELMOUSE_ACTIVE_TASKS_QUEUE.push(function(){
!function(f,b,e,v,n,t,s) {if(f.fbq)return;n=f.fbq=function(){n.callMethod? n.callMethod.apply(n,arguments):n.queue.push(arguments)}; if(!f._fbq)f._fbq=n;n.push=n;n.loaded=!0;n.version='2.0'; n.queue=[];t=b.createElement(e);t.async=!0; t.src=v;s=b.getElementsByTagName(e)[0]; s.parentNode.insertBefore(t,s)}(window, document,'script', 'https://connect.facebook.net/en_US/fbevents.js'); fbq('init', '482172895483293'); fbq('track', 'PageView');
});
window.REBELMOUSE_ACTIVE_TASKS_QUEUE.push(function(){
/*! getClosest.js | (c) 2017 Chris Ferdinandi | MIT License | http://github.com/cferdinandi/getClosest */ /** * Get the closest parent element that matches a selector. * @param {Element} elem Starting element * @param {String} selector Selector to match against * @return Element Returns null if not match found */ var getClosest = function(elem, selector) {
// Element.matches() polyfill if (!Element.prototype.matches) { Element.prototype.matches = Element.prototype.matchesSelector || Element.prototype.mozMatchesSelector || Element.prototype.msMatchesSelector || Element.prototype.oMatchesSelector || Element.prototype.webkitMatchesSelector || function(s) { var matches = (this.document || this.ownerDocument).querySelectorAll(s), i = matches.length; while (--i >= 0 && matches.item(i) !== this) {} return i > -1; }; }
// Get closest match for (; elem && elem !== document; elem = elem.parentNode) { if (elem.matches(selector)) return elem; }
return null;
};
// Vanilla JS
var className="active";
// getting current URL and adding a class on the current menu item
var path = location.pathname.split("https://www.wonkette.com/")[1]; var link = document.querySelectorAll('.menubar a[href="https://www.wonkette.com/" + path + '"]'); if (link[0]) { if (link[0].classList) { link[0].classList.add(className); } else { link[0].className += ' ' + className; } }
// remove class from home-link var home = document.getElementsByClassName('home__item'); if (home[0]) { if (home[0].classList) { home[0].classList.remove(className); } else b)' + className.split(' ').join(' }
// search the closest parent and adding an active class on it too
var closestParent = getClosest(link[0], '.menubar_item-dropdown');
if (closestParent) { if (closestParent.classList) { closestParent.classList.add(className);
} else { closestParent.className += ' ' + className; } }
var socials = document.getElementsByClassName('social-links')[0]; var cloneSocials = socials.cloneNode(true);
var menu = document.getElementById("menubar"); var cloneMenu = menu.cloneNode(true);
var mobileMenu = document.getElementsByClassName('main-menu-wrapper')[0]; var beforeEl = document.getElementsByClassName('menu-global__search-form')[0];
mobileMenu.insertBefore(cloneSocials, beforeEl); mobileMenu.insertBefore(cloneMenu, beforeEl);
if (!document.body.classList.contains('logged-out-user')) { var existCondition = setInterval(function() { var userLink = document.querySelectorAll('.main-menu-item--my_page .link'); if (userLink.length) { clearInterval(existCondition); var membersLink = document.querySelectorAll('#membersLink'); var userUrl = userLink[0].href; Array.prototype.forEach.call(membersLink, function(el) { el.href = userUrl; });
if (document.querySelector('.main-menu-item--designer_editor')) { document.querySelector('.main-menu-wrapper').classList.add('user-admin'); } } }, 500); } else { var existCondition = setInterval(function() { var userLink = document.querySelector('.main-menu-item--login .link'); if (userLink) { clearInterval(existCondition); userLink.href="http://www.wonkette.com/core/users/email_login/"; } }, 500)
}
function copyValue(el) { var thisVal = el.options[el.selectedIndex].text; var closestForm = getClosest(el, 'form'); var paypalAmount = closestForm.nextSibling.querySelector('.paypal-amount'); paypalAmount.value = thisVal; }
document.addEventListener("scroll", createIdleScrollListener(() => { if (window.scrollY > 0) { document.body.classList.add('page-scrolled'); } else { document.body.classList.remove('page-scrolled'); } }));
function createIdleScrollListener(callback) { let ticking = false;
return function onScrollIdle() { if (ticking) { return; } ticking = true; requestAnimationFrame(() => { callback(); ticking = false; }); }; }
});
window.REBELMOUSE_ACTIVE_TASKS_QUEUE.push(function(){
window.addEventListener("scroll", () => { if(this.scrollY > 50 ) { document.querySelector(".rebelbar.rebelbar--fixed.skin-simple").style.display = 'none' } else document.querySelector(".rebelbar.rebelbar--fixed.skin-simple").style.display = 'block' });
});
window.REBELMOUSE_ACTIVE_TASKS_QUEUE.push(function(){
window.REBELMOUSE_STDLIB.loadExternalScript("https://checkout.stripe.com/checkout.js", function() {
if (!Element.prototype.matches) Element.prototype.matches = Element.prototype.msMatchesSelector || Element.prototype.webkitMatchesSelector;
if (!Element.prototype.closest) Element.prototype.closest = function(s) { var el = this; if (!document.documentElement.contains(el)) return null; do while (el !== null && el.nodeType === 1); return null; };
function formsHandling() { var formDonate = document.querySelectorAll('.donation-form:not(.processed)');
formDonate.forEach(function(formEl) { var formEl = formEl;
formEl.classList.add("processed");
formEl.addEventListener("submit", function(event) { event.preventDefault(); });
var donationBtns = formEl.querySelectorAll('.donate-button');
donationBtns.forEach(function(el) { el.addEventListener("click", function(event) { event.preventDefault(); formProcessing(el) }); });
function formProcessing(el) { var btn = el; var payment = btn.getAttribute('data-payment'); var planType = formEl.querySelector('input[name="plan_type"]:checked').value; var checkedOption = formEl.querySelector('input[name="amount"]:checked'); var amount = checkedOption.value * 1; var amountOptional = checkedOption.getAttribute('data-amount'); var dataValue = checkedOption.getAttribute('data-value'); var action;
if ( formEl.contains(formEl.querySelector('.remove-me')) ) { formEl.querySelectorAll('.remove-me').forEach(function(el){ el.remove() }); }
if ( payment == "paypal" ) { formEl.action = "https://www.paypal.com/cgi-bin/webscr"; formEl.setAttribute('target', '_blank');
addHidden( 'currency_code', 'USD'); addHidden( 'cmd', ''); addHidden( 'return', "https://www.wonkette.com/st/Wonkettes_Hero"); addHidden( 'cancel_return', window.location.href);
if ( planType == "once" ) { checkedOption.value = dataValue; formEl.querySelector('input[name="cmd"]').value="_donations"; addHidden( 'business', 'rebecca@wonkette.com'); addHidden( 'item_name', 'Wonkette Donation'); addHidden( 'item_number', 'Just Once');
//add new params addHidden( 'a3', dataValue); addHidden( 'p3', 1); addHidden( 't3', 'D');
} else if ( planType == "monthly" ) { formEl.querySelector('input[name="cmd"]').value="_xclick-subscriptions"; addHidden( 'business', 'rebecca@wonkette.com'); addHidden( 'item_name', 'Wonkette Recurring Donation'); addHidden( 'item_number', 'wonkette_recurring');
//add new params addHidden( 'a3', dataValue); addHidden( 'p3', 1); addHidden( 't3', 'M'); addHidden( 'src', 1); addHidden( 'srt', 52); } formEl.submit(); } else if ( payment == "strip" ) { addHidden( 'entity_type', 1); addHidden( 'plan_type', 1); addHidden('entity_id', getSiteId() ); checkedOption.value = dataValue * 100;
if ( planType == "once" ) { formEl.action = "/core/payment/single_donation"; addHidden( 'plan_name', 'One Time Donation'); stripInit(amount, 'One Time Donation');
} else if ( planType == "monthly" ) { formEl.action = "/core/payment/recurring_donation"; addHidden( 'plan_name', 'Monthly Donation'); addHidden( 'plan', 'donation_' + amount); stripInit(amount, 'Monthly Donation'); }
}
} function addHidden(key, value) { // Create a hidden input element, and append it to the form: var input = document.createElement('input'); input.type="hidden"; input.name = key; input.value = value; input.className += 'remove-me'; formEl.appendChild(input); }
function stripInit(amount, description) { var token = function(res){ addHidden('stripeToken', res.id); addHidden('stripeEmail', res.email); formEl.submit(); };
if (amount) { StripeCheckout.open({ key: 'pk_live_7dJjNGbMgTkHfEasr9FsLcjF', // real //key: 'pk_test_zbMpaIyMyHJ7TLUEheC7q2iS', //test amount: amount, name: 'Wonkette', image: 'https://assets.rbl.ms/16950638/origin.png', description: description, panelLabel: 'Donate', token: token, locale: 'auto' }); } else { window.alert('Select donation amount first') } } });
function getSiteId() { var site_id = null; var inner = document.querySelector('html').innerHTML var str = inner.split('"site_id": '); if( str[1] != undefined ){ site_id = str[1].split(',')[0]; } return !isNaN(site_id) ? site_id : false; } }
formsHandling();
REBELMOUSE_STDLIB.createElementChangeListener(".show-more.js-expand:not(.processed)", (el) => { const keepReading = el; keepReading.classList.add("processed"); keepReading.addEventListener("click", function() { setTimeout(formsHandling, 500) }); });
});
});
window.REBELMOUSE_ACTIVE_TASKS_QUEUE.push(function(){
window.disqus_config = function () { this.page.identifier = "2657317852", this.page.url = "https://www.wonkette.com/madison-cawthorn-discovers-fragging-your-fellow-republicans-can-be-bad-for-your-political-health"; }; var disqusCt = document.createElement('div'), disqus_config; disqusCt.id = 'disqus_thread'; (function () )();
function loadCountScript(callback) { var s = document.createElement('script'); s.type="text/javascript"; s.async = true; s.id = 'dsq-count-scr'; s.src = "//wonkettecom.disqus.com/count.js"; var x = document.getElementsByTagName('script')[0]; x.parentNode.insertBefore(s, x); s.onload = () => callback(s); document.head.append(s); } loadCountScript(script => { /*Add comment Button to all articles*/ REBELMOUSE_STDLIB.createElementChangeListener(".share-panel:not(.js--has-comments)", (el) => { let sharesPanel = el; sharesPanel.classList.add('js--has-comments'); if (sharesPanel.closest('.article__shares')) { let postId = window.REBELMOUSE_BOOTSTRAP_DATA.post.id, postURL = location.protocol + '//' + location.host + location.pathname; addButton(postURL, postId, sharesPanel); } else if (sharesPanel.closest('.widget')) { let thisPost = sharesPanel.closest('.widget'), postId = thisPost.getAttribute('elid'), postURL = thisPost.querySelector('.widget__headline-text').getAttribute('href'); addButton(postURL, postId, sharesPanel); } }); });
function addButton(url, id, el) { var commentBtn = document.createElement('span'); //commentBtn.href = url; commentBtn.classList.add('js--toggleDisqus'); commentBtn.classList.add('disqus-comment-count'); commentBtn.setAttribute('data-disqus-url', url); commentBtn.setAttribute('data-postid', id); //commentBtn.setAttribute('data-disqus-identifier', id); commentBtn.innerText="0"; el.append(commentBtn); DISQUSWIDGETS.getCount({ reset: true }); //console.log(url, id); } REBELMOUSE_STDLIB.createElementChangeListener(".js--toggleDisqus:not(.js--callDisqus-processed), .show-more:not(.js--callDisqus-processed)", (el) => { console.log('run callDisqus()'); var timeOut = 10; if (el.classList.contains("show-more")) { timeOut = 1000; } el.classList.add('js--callDisqus-processed') el.addEventListener('click', function () { setTimeout(function () { let t = el, thisPost = t.closest('article') || t.closest('.js-section-loader-feature-container'), postId = t.getAttribute('data-postid'), postURL = t.getAttribute('data-disqus-url'); document.querySelector('#disqus_thread') && document.querySelector('#disqus_thread').remove(); if (t.closest('.article__shares')) { let postWrap = document.querySelector('.mobile-post-wrapper'); postWrap.appendChild(disqusCt); } else { let afterEl = t.closest('.widget'); if (afterEl) { afterEl.parentNode.insertBefore(disqusCt, afterEl.nextElementSibling); } } console.log('DISQUS.reset', postId, postURL); DISQUS.reset({ reload: true, config: function () { this.page.identifier = postId; this.page.url = postURL; } }); if (t.classList.contains('js--toggleDisqus')) { let disqus = document.getElementById("disqus_thread"); // disqus.scrollIntoView(); } }, timeOut) }); }); // Hide hidden tip-jar, idk why window.REBELMOUSE_STDLIB.createElementChangeListener(".js-keep-reading:not(.js-processed)", (el) => { let keepReading = el; keepReading.classList.add('js-processed'); //keepReading.closest('.mb-2').nextElementSibling.style.display='none'; });
});