Russia's Protection Ministry now says that its Black Sea flagship, the guided missile cruiser Moskva, sank all proper, however insists it went down while being towed in stormy seas after a fireplace onboard blowed up its ammunition shops. Ukraine says it sank the ship utilizing Ukrainian-built Neptune anti-ship missiles. CNN experiences that two "sources accustomed to US and Western intelligence" mentioned that "Ukraine's declare is believed to be credible, though US officers don't but have definitive proof," though the US has not independently attributed the rationale for the sinking. [CNN]
Russia seems to have retaliated by attacking Kyiv and different Ukrainian cities with missiles. [Reuters]
And sure, there have been memes. As a result of we love you, we are going to spare you the video with inventory footage of Moskva and a extremely dangerous recorder rendition of "My Coronary heart Will Go On."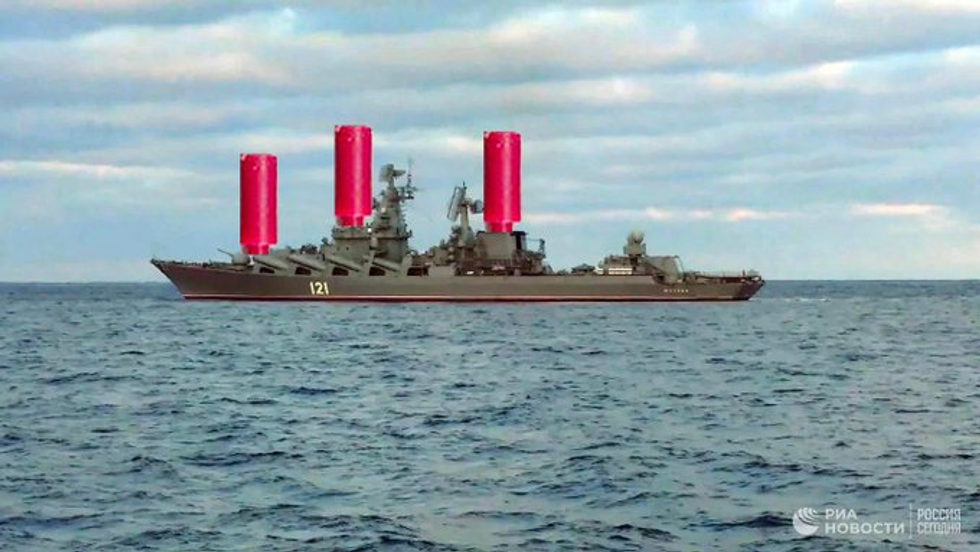 Ukraine arrested Viktor Medvedchuk, a pro-Putin Ukrainian media oligarch who escaped from home arrest close to the beginning of the battle, and seized an assload of his property, together with "26 vehicles, 32 flats, 23 homes, 30 plots of land, 17 parking spots and a yacht." It is the second yacht belonging to Medvedchuk that Ukraine has confiscated this yr. [CNBC]
Here is Ukrainian news video of the weird pretend railway station and luxurious prepare automotive at considered one of his mansions, as featured on Maddow final evening.
---
The New York Instances experiences that the European Union is making ready to vote on phasing in a whole embargo of Russian oil imports, following an earlier ban on importing Russian coal (though that is being phased in over 4 months, to "wind down ongoing orders"). The earliest it might come up for a vote could be someday after the third spherical of France's elections, which shall be held on April 24, the Instances says, to "be certain that the influence on costs on the pump doesn't gasoline the populist candidate Marine Le Pen and harm president Emmanuel Macron's probabilities of re-election," in accordance with EU officers. [NYT]
Individually, the Instances additionally experiences that Marine Le Pen vowed in a press convention that if she's elected, France would pull out of NATO's built-in navy command and cease being so imply to Russia. She additionally ranted about "globalists" and downplayed the importance of local weather change. Le Pen has not but been provided a major time present on Fox Information. [NYT]
We had no concept that Kim Carnes's 1981 hit "Bette Davis Eyes" was a canopy of a 1974 version by Jackie DeShannon. The unique is … very totally different from the quilt, oh golly. By some means, this isn't a parody. [Twitter]
Numerous nameless congressional sources, most of them Democrats, instructed the San Francisco Chronicle that Sen. Dianne Feinstein suffers episodes of reminiscence loss; some days, the sources mentioned, she's as acute as ever, however "some near her mentioned that on her most tough days, she doesn't appear to completely acknowledge even longtime colleagues." The sources fear that Feinstein is not totally capable of do her job, and those that spoke to the paper mentioned that elevating issues about Feinstein's age and psychological acuity "was painful due to their respect for the senator and her groundbreaking profession."
A number of different Democrats, in on-the report feedback, defended Feinstein and mentioned such issues have been misplaced. After the story ran, Feinstein herself told the Chronicle's editorial board that nobody had raised such issues instantly along with her, and that she has no intention of resigning. She additionally mentioned that she has had some moments of forgetfulness lately, which she mentioned have been as a consequence of stress ensuing from the dying of her husband in February. We now have a sense this story could also be with us for some time. Please attempt to not be monstrous within the feedback. [SF Chronicle]
A jury convicted January 6 insurrectionist Dustin Thompson on six federal prices Thursday, together with felony obstruction of Congress. The jury was not persuaded by Thompson's legal professional's declare that Donald Trump had led the poor lad into against the law he would in any other case by no means have dedicated. [Politico]
A very stupid Republican bill that will have mixed parts of "Do not Say Homosexual" with a ban on "Vital Race Principle" was rapidly put out of its distress Monday in a Rhode Island Home committee. Among the many weirder parts of the invoice was a line insisting that "Historical past shall be taught utilizing the requirements, customs, and traditions in use on the time of the historic occasion." We're assuming the intent was to forestall lecturers from saying slavery or the genocide of Native Individuals was dangerous? In any case, actual historians had a fine time making snarky fun of that idiocy on Twitter. Had it been paſsed, the leſsons on Colonial American hiſtory would ſurely have cauſed hyſterical confuſion for ſubſitute lecturers. [Patch / Rhode Island H 7539]
Janelle Shane educated an image-generating AI to design Easter eggs in varied inventive kinds; some runs went fairly properly, like "Easter eggs, acrylic on canvas":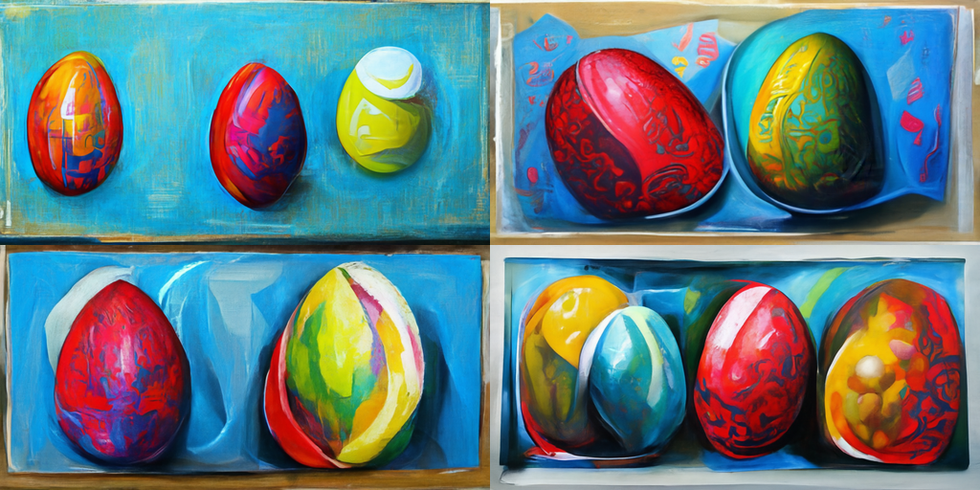 Janelle Shane, AI Weirdness
For the reason that algorithm included all kinds of pictures from the web, it typically went with fried eggs as an alternative of the boiled form in a coloured shell. On this set, the AI took the cue of "matte portray" and located monumental eggs in backgrounds for epic films.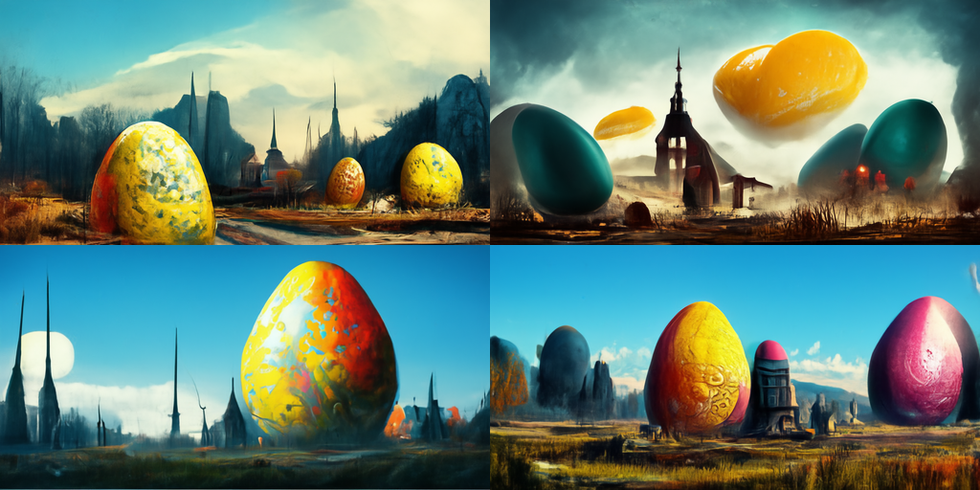 Janelle Shane, AI Weirdness
I type of love the flying yolks within the upper-right nook right here; I'll have discovered a brand new screensaver. Surprise if I can get an enormous sized copy… [AI Weirdness]
Lastly, this is a pretty amazing image from storm chaser Chris Riske, who has positively already heard all of your "Riske Enterprise" jokes. It is a video nonetheless displaying the second lightning hit his pal's Prius. It fried the automotive's every little thing, however the pal is ok. [Twitter]
In the video, you may see a puff of smoke because the automotive is hit. Poor automotive stops shifting instantly.
Once more, no person harm however the automotive, which might be totaled. Now it is a Toyota Postus. [Chris Riske on YouTube]
Yr Wonkette is funded solely by reader donations. In the event you can, please give $5 or $10 a month so we are able to hold bringing you all of the electrifying information!
window.REBELMOUSE_ACTIVE_TASKS_QUEUE.push(function(){
!function(f,b,e,v,n,t,s) {if(f.fbq)return;n=f.fbq=function(){n.callMethod? n.callMethod.apply(n,arguments):n.queue.push(arguments)}; if(!f._fbq)f._fbq=n;n.push=n;n.loaded=!0;n.version='2.0'; n.queue=[];t=b.createElement(e);t.async=!0; t.src=v;s=b.getElementsByTagName(e)[0]; s.parentNode.insertBefore(t,s)}(window, document,'script', 'https://connect.facebook.net/en_US/fbevents.js'); fbq('init', '482172895483293'); fbq('track', 'PageView');
});
window.REBELMOUSE_ACTIVE_TASKS_QUEUE.push(function(){
/*! getClosest.js | (c) 2017 Chris Ferdinandi | MIT License | http://github.com/cferdinandi/getClosest */ /** * Get the closest parent element that matches a selector. * @param {Element} elem Starting element * @param {String} selector Selector to match against * @return Element Returns null if not match found */ var getClosest = function(elem, selector) {
// Element.matches() polyfill if (!Element.prototype.matches) { Element.prototype.matches = Element.prototype.matchesSelector || Element.prototype.mozMatchesSelector || Element.prototype.msMatchesSelector || Element.prototype.oMatchesSelector || Element.prototype.webkitMatchesSelector || function(s) { var matches = (this.document || this.ownerDocument).querySelectorAll(s), i = matches.length; while (--i >= 0 && matches.item(i) !== this) {} return i > -1; }; }
// Get closest match for (; elem && elem !== document; elem = elem.parentNode) { if (elem.matches(selector)) return elem; }
return null;
};
// Vanilla JS
var className="active";
// getting current URL and adding a class on the current menu item
var path = location.pathname.split("https://www.wonkette.com/")[1]; var link = document.querySelectorAll('.menubar a[href="https://www.wonkette.com/" + path + '"]'); if (link[0]) { if (link[0].classList) { link[0].classList.add(className); } else { link[0].className += ' ' + className; } }
// remove class from home-link var home = document.getElementsByClassName('home__item'); if (home[0]) { if (home[0].classList) { home[0].classList.remove(className); } else $)', 'gi'), ' ');
}
// search the closest parent and adding an active class on it too
var closestParent = getClosest(link[0], '.menubar_item-dropdown');
if (closestParent) { if (closestParent.classList) { closestParent.classList.add(className);
} else { closestParent.className += ' ' + className; } }
var socials = document.getElementsByClassName('social-links')[0]; var cloneSocials = socials.cloneNode(true);
var menu = document.getElementById("menubar"); var cloneMenu = menu.cloneNode(true);
var mobileMenu = document.getElementsByClassName('main-menu-wrapper')[0]; var beforeEl = document.getElementsByClassName('menu-global__search-form')[0];
mobileMenu.insertBefore(cloneSocials, beforeEl); mobileMenu.insertBefore(cloneMenu, beforeEl);
if (!document.body.classList.contains('logged-out-user')) { var existCondition = setInterval(function() { var userLink = document.querySelectorAll('.main-menu-item--my_page .link'); if (userLink.length) { clearInterval(existCondition); var membersLink = document.querySelectorAll('#membersLink'); var userUrl = userLink[0].href; Array.prototype.forEach.call(membersLink, function(el) { el.href = userUrl; });
if (document.querySelector('.main-menu-item--designer_editor')) { document.querySelector('.main-menu-wrapper').classList.add('user-admin'); } } }, 500); } else { var existCondition = setInterval(function() { var userLink = document.querySelector('.main-menu-item--login .link'); if (userLink) { clearInterval(existCondition); userLink.href="http://www.wonkette.com/core/users/email_login/"; } }, 500)
}
function copyValue(el) { var thisVal = el.options[el.selectedIndex].text; var closestForm = getClosest(el, 'form'); var paypalAmount = closestForm.nextSibling.querySelector('.paypal-amount'); paypalAmount.value = thisVal; }
document.addEventListener("scroll", createIdleScrollListener(() => { if (window.scrollY > 0) { document.body.classList.add('page-scrolled'); } else { document.body.classList.remove('page-scrolled'); } }));
function createIdleScrollListener(callback) { let ticking = false;
return function onScrollIdle() { if (ticking) { return; } ticking = true; requestAnimationFrame(() => { callback(); ticking = false; }); }; }
});
window.REBELMOUSE_ACTIVE_TASKS_QUEUE.push(function(){
window.addEventListener("scroll", () => { if(this.scrollY > 50 ) { document.querySelector(".rebelbar.rebelbar--fixed.skin-simple").style.display = 'none' } else document.querySelector(".rebelbar.rebelbar--fixed.skin-simple").style.display = 'block' });
});
window.REBELMOUSE_ACTIVE_TASKS_QUEUE.push(function(){
window.REBELMOUSE_STDLIB.loadExternalScript("https://checkout.stripe.com/checkout.js", function() {
if (!Element.prototype.matches) Element.prototype.matches = Element.prototype.msMatchesSelector || Element.prototype.webkitMatchesSelector;
if (!Element.prototype.closest) Element.prototype.closest = function(s) { var el = this; if (!document.documentElement.contains(el)) return null; do el.parentNode; while (el !== null && el.nodeType === 1); return null; };
function formsHandling() { var formDonate = document.querySelectorAll('.donation-form:not(.processed)');
formDonate.forEach(function(formEl) { var formEl = formEl;
formEl.classList.add("processed");
formEl.addEventListener("submit", function(event) { event.preventDefault(); });
var donationBtns = formEl.querySelectorAll('.donate-button');
donationBtns.forEach(function(el) { el.addEventListener("click", function(event) { event.preventDefault(); formProcessing(el) }); });
function formProcessing(el) { var btn = el; var payment = btn.getAttribute('data-payment'); var planType = formEl.querySelector('input[name="plan_type"]:checked').value; var checkedOption = formEl.querySelector('input[name="amount"]:checked'); var amount = checkedOption.value * 1; var amountOptional = checkedOption.getAttribute('data-amount'); var dataValue = checkedOption.getAttribute('data-value'); var action;
if ( formEl.contains(formEl.querySelector('.remove-me')) ) { formEl.querySelectorAll('.remove-me').forEach(function(el){ el.remove() }); }
if ( payment == "paypal" ) { formEl.action = "https://www.paypal.com/cgi-bin/webscr"; formEl.setAttribute('target', '_blank');
addHidden( 'currency_code', 'USD'); addHidden( 'cmd', ''); addHidden( 'return', "https://www.wonkette.com/st/Wonkettes_Hero"); addHidden( 'cancel_return', window.location.href);
if ( planType == "once" ) { checkedOption.value = dataValue; formEl.querySelector('input[name="cmd"]').value="_donations"; addHidden( 'business', 'rebecca@wonkette.com'); addHidden( 'item_name', 'Wonkette Donation'); addHidden( 'item_number', 'Just Once');
//add new params addHidden( 'a3', dataValue); addHidden( 'p3', 1); addHidden( 't3', 'D');
} else if ( planType == "monthly" ) { formEl.querySelector('input[name="cmd"]').value="_xclick-subscriptions"; addHidden( 'business', 'rebecca@wonkette.com'); addHidden( 'item_name', 'Wonkette Recurring Donation'); addHidden( 'item_number', 'wonkette_recurring');
//add new params addHidden( 'a3', dataValue); addHidden( 'p3', 1); addHidden( 't3', 'M'); addHidden( 'src', 1); addHidden( 'srt', 52); } formEl.submit(); } else if ( payment == "strip" ) { addHidden( 'entity_type', 1); addHidden( 'plan_type', 1); addHidden('entity_id', getSiteId() ); checkedOption.value = dataValue * 100;
if ( planType == "once" ) { formEl.action = "/core/payment/single_donation"; addHidden( 'plan_name', 'One Time Donation'); stripInit(amount, 'One Time Donation');
} else if ( planType == "monthly" ) { formEl.action = "/core/payment/recurring_donation"; addHidden( 'plan_name', 'Monthly Donation'); addHidden( 'plan', 'donation_' + amount); stripInit(amount, 'Monthly Donation'); }
}
} function addHidden(key, value) { // Create a hidden input element, and append it to the form: var input = document.createElement('input'); input.type="hidden"; input.name = key; input.value = value; input.className += 'remove-me'; formEl.appendChild(input); }
function stripInit(amount, description) { var token = function(res){ addHidden('stripeToken', res.id); addHidden('stripeEmail', res.email); formEl.submit(); };
if (amount) { StripeCheckout.open({ key: 'pk_live_7dJjNGbMgTkHfEasr9FsLcjF', // real //key: 'pk_test_zbMpaIyMyHJ7TLUEheC7q2iS', //test amount: amount, name: 'Wonkette', image: 'https://assets.rbl.ms/16950638/origin.png', description: description, panelLabel: 'Donate', token: token, locale: 'auto' }); } else { window.alert('Select donation amount first') } } });
function getSiteId() { var site_id = null; var inner = document.querySelector('html').innerHTML var str = inner.split('"site_id": '); if( str[1] != undefined ){ site_id = str[1].split(',')[0]; } return !isNaN(site_id) ? site_id : false; } }
formsHandling();
REBELMOUSE_STDLIB.createElementChangeListener(".show-more.js-expand:not(.processed)", (el) => { const keepReading = el; keepReading.classList.add("processed"); keepReading.addEventListener("click", function() { setTimeout(formsHandling, 500) }); });
});
});
window.REBELMOUSE_ACTIVE_TASKS_QUEUE.push(function(){
window.disqus_config = function () { this.page.identifier = "2657158443", this.page.url = "https://www.wonkette.com/zooey-deschanel-shocked-people-don-t-recognize-her-without-bangs-tabs-friday-april-15-2022"; }; var disqusCt = document.createElement('div'), disqus_config; disqusCt.id = 'disqus_thread'; (function () d.body).appendChild(s); )();
function loadCountScript(callback) { var s = document.createElement('script'); s.type="text/javascript"; s.async = true; s.id = 'dsq-count-scr'; s.src = "//wonkettecom.disqus.com/count.js"; var x = document.getElementsByTagName('script')[0]; x.parentNode.insertBefore(s, x); s.onload = () => callback(s); document.head.append(s); } loadCountScript(script => { /*Add comment Button to all articles*/ REBELMOUSE_STDLIB.createElementChangeListener(".share-panel:not(.js--has-comments)", (el) => { let sharesPanel = el; sharesPanel.classList.add('js--has-comments'); if (sharesPanel.closest('.article__shares')) { let postId = window.REBELMOUSE_BOOTSTRAP_DATA.post.id, postURL = location.protocol + '//' + location.host + location.pathname; addButton(postURL, postId, sharesPanel); } else if (sharesPanel.closest('.widget')) { let thisPost = sharesPanel.closest('.widget'), postId = thisPost.getAttribute('elid'), postURL = thisPost.querySelector('.widget__headline-text').getAttribute('href'); addButton(postURL, postId, sharesPanel); } }); });
function addButton(url, id, el) { var commentBtn = document.createElement('span'); //commentBtn.href = url; commentBtn.classList.add('js--toggleDisqus'); commentBtn.classList.add('disqus-comment-count'); commentBtn.setAttribute('data-disqus-url', url); commentBtn.setAttribute('data-postid', id); //commentBtn.setAttribute('data-disqus-identifier', id); commentBtn.innerText="0"; el.append(commentBtn); DISQUSWIDGETS.getCount({ reset: true }); //console.log(url, id); } REBELMOUSE_STDLIB.createElementChangeListener(".js--toggleDisqus:not(.js--callDisqus-processed), .show-more:not(.js--callDisqus-processed)", (el) => { console.log('run callDisqus()'); var timeOut = 10; if (el.classList.contains("show-more")) { timeOut = 1000; } el.classList.add('js--callDisqus-processed') el.addEventListener('click', function () { setTimeout(function () { let t = el, thisPost = t.closest('article') || t.closest('.js-section-loader-feature-container'), postId = t.getAttribute('data-postid'), postURL = t.getAttribute('data-disqus-url'); document.querySelector('#disqus_thread') && document.querySelector('#disqus_thread').remove(); if (t.closest('.article__shares')) { let postWrap = document.querySelector('.mobile-post-wrapper'); postWrap.appendChild(disqusCt); } else { let afterEl = t.closest('.widget'); if (afterEl) { afterEl.parentNode.insertBefore(disqusCt, afterEl.nextElementSibling); } } console.log('DISQUS.reset', postId, postURL); DISQUS.reset({ reload: true, config: function () { this.page.identifier = postId; this.page.url = postURL; } }); if (t.classList.contains('js--toggleDisqus')) { let disqus = document.getElementById("disqus_thread"); // disqus.scrollIntoView(); } }, timeOut) }); }); // Hide hidden tip-jar, idk why window.REBELMOUSE_STDLIB.createElementChangeListener(".js-keep-reading:not(.js-processed)", (el) => { let keepReading = el; keepReading.classList.add('js-processed'); //keepReading.closest('.mb-2').nextElementSibling.style.display='none'; });
});